Bioengineering
A Department of the School of Engineering and Applied Science
Student Policies
Please refer to the SEAS Undergraduate Handbook for policies and procedures.
Bioengineering Credit Increase Policy
Students with a 3.0 GPA or above can request to have their credits increased above the 5.5 cu maximum by contacting Kat (ksas@seas). Credits will only be increased by .5 cu's per semester. For example, if earn a 3.0 GPA or above with 5.5 cu's, Kat will raise you to 6 cu's. After your grades come in with your performance at 6 cu's, you may then request to take 6.5 cu's the following semester. Students requesting a 1 cu credit increase must contact Kacy (kacy@seas). A formal petition must be submitted for any students requesting 7 cu's or higher, or students below a 3.0 GPA that would like any credit increase. You can contact Kacy with any questions regarding formal petitions.
Petitions
Students requesting to petition must fill out the Petition for Action form. Once your form is completed, you then must have your faculty advisor sign it, and bring it to the BE Office (Skirkanich 240). The BE Office will get the UG Curriculum Chairs signature and take it to RAS for review. The Petitions Committee meets every Wednesday, but petitions must be submitted to RAS by Tuesday at noon. You will receive an email from the committee letting you know their decision. If you have any questions regarding the petitioning process, please contact Kacy (kacy@seas).
Undergraduate Program:
BE Advising Contact:
Ms. Kacy M. Dadura
Associate Director for Advising
Room 240 Skirkanich Hall
Phone: 215-573-6405
Undergraduate Brochure: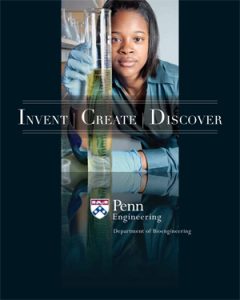 (1.76 MB PDF)