Bioengineering
A Department of the School of Engineering and Applied Science
Instructional Lab & Bio-MakerSpace

Our undergraduate students do hands-on, interdisciplinary work. From designing and building electric circuits to dissecting tissues, from examining the mechanical properties of bone to purifying solutions by dialysis, our students have access to laboratory facilities with state-of-the-art equipment and opportunities. Lab courses are heavily project based, and students learn modeling, analysis, and design techniques involving physiological studies, instrumentation and circuit design, medical device development, biomechanics, biomaterials, microfluidics, and cell engineering.
The Stephenson Foundation Educational Laboratory & Bio-MakerSpace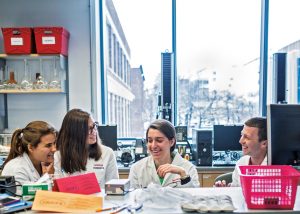 The George H. Stephenson Foundation Educational Laboratory and Bio-MakerSpace is the primary teaching lab for the Department of Bioengineering, serving undergraduate, Masters, and PhD students. It is located in Room 225 Skirkanich Hall. This interdisciplinary lab is a Bio-MakerSpace / BioMakerSpace with tools and supplies available for molecular biology work, human and animal physiology studies, chemistry, and microfluidics; Instron test systems for mechanical testing; electrical/electronic test and prototyping equipment; and mechanical prototyping equipment, including 3-D Printers, and a laser cutter.
Students have access to this lab for their lab courses, personal projects, and start-up ventures. By combining Bioengineering's educational lab space with an open MakerSpace, we encourage a free flow of ideas, creativity, and entrepreneurship between Bioengineering students and students throughout Penn. Learn more about the student work coming out of the Bio-MakerSpace here.