Bioengineering
A Department of the School of Engineering and Applied Science
Advance Registration
Advance Registration Process:
The procedure to gain clearance to register for the upcoming Spring 2020 registration period (October 28 – November 10) will be the same as Fall 2019. Students will be cleared and permitted to register beginning 10am, Monday morning, October 28.However, even though you will be cleared to register at the start of the registration period, all undergraduate students are still required to meet with their advisor and obtain an approval signature on their Worksheet/Electronic-course planning guide (E-cpg) – BOTH VIEWS (semester and requirement).  Worksheets with your advisor's signature should be submitted to the Bioengineering office (240 Skirkanich) by Friday, November 9th.  Please be sure to have both formats of the E-cpg signed, i.e., E-cpgs with classes listed by semester and by degree requirements.NOTE: Students who have not submitted completed worksheets to the Bioengineering office by November 10th will be placed on REGISTRATION HOLD and will not be able to participate in the drop/add period until their signed E-cpg has been received. Students who did not hand in worksheets during the previous term will be kept on hold until they turn them in.

Please use the day/times noted on the Faculty Advising Schedule to meet with your advisor.  Additional meeting times may be scheduled, so please contact your advisor for any updated information on office hours.

To prepare the paperwork go online to Penn InTouch and fill out the electronic worksheet for your curriculum (BSE, ASBS = BAS). Select Worksheet from the menu. Use Help to get instructions on how to fill it out.
When filling out the worksheet, you must enter the course numbers of the courses you are taking. The system expects that course numbers will consist of four letters followed by three numbers: e.g., MATH104. BE is only two letters, so you must enter BE courses as [BE<space><space>] or [BE  100].
When taking cross-listed courses to fulfill the BE CPG, students are required to enroll in the engineering designation of the course. For example, students taking OPIM415, which is the same as MEAM 415, must enroll in MEAM415.
When you have filled out the worksheet, print out BOTH the Requirement View and Term View. If applicable, attach all petitions necessary to carry out your planned curriculum including petitions to increase your course load (7cu's or higher).
Please contact your advisor to meet with him/her before turning in your electronic worksheet to the BE Office in 240 Skirkanich. You must meet with your advisor and obtain his/her signature on your worksheet before turning it in to the BE Office.
After you have acquired your advisor's signature, submit the worksheet to the BE office. Make sure to write your NAME AND GRADUATION YEAR on the worksheet.  Your name will NOT print electronically, so please print your full, official name on your worksheet. You do NOT need a "permission to register" form. The electronic worksheet, both the semester and requirements views, is all that is required. ONLY the electronic worksheet is acceptable – no other forms can be processed.
Important Notes:
The registration period is: October 28 – November 10.
To increase credit units above 5.5 CU per semester, you must have a minimum 3.0 GPA, with no "F" or "I" on your transcript. Please make your request to increase your credits on your worksheet or email Erin Reavy-Fredericks. Refer to the BE Student Policies website and the Penn Engineering Undergraduate Handbook for guidance.
Print your full official name on both views of eCPG.
Undergraduate Program:
BE Advising Contact:
Ms. Kacy M. Dadura
Associate Director for Advising
Room 240 Skirkanich Hall
Phone: 215-573-6405
Undergraduate Brochure: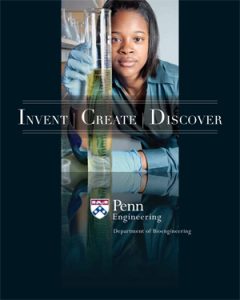 (1.76 MB PDF)