Bioengineering
A Department of the School of Engineering and Applied Science
Advance Registration
Advance Registration: Spring 2022
Below you will see the guidelines for gaining clearance to register for the upcoming Spring 2022 advance registration period, which will be held November 1st-14th.
Advance Registration Procedure
Students will be cleared and permitted to register beginning Monday, November 1st. During the two-week Advance Registration period, all Undergraduate students are required to meet (either virtually or in person) with their faculty advisor. It is up to the faculty advisor how the meeting will be held, and if online, which platform they will use for this meeting (ie- Zoom, Skype, etc). You will receive clear instructions from them on how to schedule an appointment. Your faculty advisor will then sign you off electronically through a BE Departmental system we have set in place. Please be sure to have your eCPG (Electronic Course Planning Guide) updated before your meeting.
All students should have met with their advisor by Friday, November 12th.  Students who have not done this will be placed BACK ON REGISTRATION HOLD and will not be able to participate in the add/drop period until you meet with your faculty advisor and get electronic sign off.
Credit Increases
Students may only register for more than 5.5 cu's after grades and course load from the previous semester are available. Please refer to the SEAS policy on credit increases and our website.
Important Dates for Fall 2021
November 1-14: Advance registration for spring semester
November 8: Last day to withdraw from a course
November 25-28: Thanksgiving break
December 10: Last day of classes
December 11-14: Reading days
December 15-22: Final examinations
December 22: Fall term ends
BE Curriculum
Students entering Fall 2020 or later, should follow the sample curriculum below:
Students entering Fall 2019 or earlier should follow the sample curriculum below:
Staff Advising
You can direct advising questions to Kacy (kacy@seas). Walk-in advising hours (Skirkanich 240) are Tuesday, 2-3pm and Wednesday, 11am-12pm or by appointment.
Undergraduate Program:
BE Advising Contact:
Ms. Kacy M. Dadura
Associate Director for Advising
Room 240 Skirkanich Hall
Phone: 215-573-6405
Undergraduate Brochure: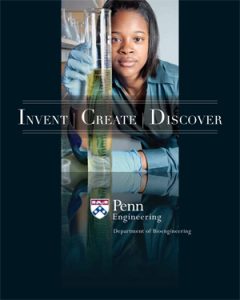 (1.76 MB PDF)