Bioengineering
A Department of the School of Engineering and Applied Science
Advance Registration
Advance Registration: Fall 2020
Below you will see the guidelines for gaining clearance to register for the upcoming Fall 2020 advance registration period, which will now be held April 14th-April 24th.
New Advance Registration Procedure
Students will be cleared and permitted to register beginning Tuesday morning, April 14th. During the two-week Advance Registration period, all Undergraduate Students are required to meet virtually with their faculty advisor. It is up to the faculty advisor which platform they will use for this meeting (ie- Zoom, Skype, etc) and you will receive clear instructions from them on how to schedule an appointment. Your faculty advisor will then sign you off electronically through a BE Departmental system we have set in place. You will not need to print any eCPG's, get anything signed in person, or turn any paperwork into the BE Office.
All students should have met with their advisor by Friday, April 24th.  Students who have not done this will be placed BACK ON REGISTRATION HOLD and will not be able to participate in the add/drop period until you virtually meet with your faculty advisor and get electronic sign off.
Please note that students wishing to register for Independent Study (BE 490/492) should not do so until the Fall. Students do not have to find an advisor at this time.
Credit Increases
Students may only register for more than 5.5 cu's after grades and course load from the previous semester are available. Please refer to the SEAS policy on credit increases and our website.
Other Important Dates for Spring Semester:
-March 23rd classes begin
-April 13th is the last day to withdraw
-April 14th is the last day to change grade type to P/F
-April 29th classes end
Updates to BE Website & Curriculum:
All current students will follow the same curriculum in which you are currently on (Entered Fall 2015). As previously announced by SEAS, the class entering Fall 2020 will be on a new curriculum, which is now on the BE website. Students are not able to switch curriculums. We wanted to make you aware so you can be certain you are referencing the correct degree requirements and sample curriculum from our website. Here are direct links to your requirements/curriculum:
BAS Requirements and Sample Curriculum
BSE Requirements and Sample Curriculum
Staff Advising
Please remember that even though staff are not currently on campus, they are working remotely. Feel free to email with any advising questions or schedule a Zoom appointment if needed. You can direct advising questions to Kacy (kacy@seas), or any questions concerning your eCPG/worksheet updates to Erin (ereavy@seas).
For more information on Departmental Advising and SEAS procedural updates during COVID-19,  please click here.
Undergraduate Program:
BE Advising Contact:
Ms. Kacy M. Dadura
Associate Director for Advising
Room 240 Skirkanich Hall
Phone: 215-573-6405
Undergraduate Brochure: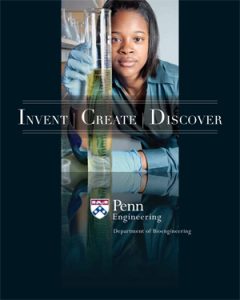 (1.76 MB PDF)