Bioengineering Alumni
A Worldwide Alumni Network
As one of the oldest and most established bioengineering programs in the country, Penn numbers close to 1,500 alumni currently residing in the United States and more than 100 living all over the world.  Alumni can be found in a diverse range of fields from academia, research labs, and pharmaceutical companies to law, venture capital and consulting firms. They continue to shape the field of bioengineering through their innovation, research, medicine, and teaching.
Even before a student graduates from Penn, he or she can connect with this diverse group.  Alumni return to Penn to talk informally about careers, support scientific advances and education through donor gifts, and connect with both undergraduate and graduate students.
Alumni Spotlights:
Chrysta Irolla (Class of 2008)
Clinical Manager, Orthopaedic Surgery, UCSF
I was born and raised in Brooklyn, New York, and first came to Penn during the Penn Relays (a national track event) that draws high school students from all over the country and from foreign countries, too.  I loved that Penn was not just in a city but was trying to be a part of Philadelphia by having students volunteer their time, particularly through an academic-based community service class called "Bioengineering in the world."  I also became a SPARK counselor, helping young kids interested in engineering to do science experiments in BE labs during the summer and on weekends.
I went to China with Penn's Global Biomedical Service Program and came back with new goals and ideas.  Not only did I discover a passion for prosthetics and orthotics, but I researched and invented a device for below-the-knee amputees, for which I won a PennVention prize and financial support.  My Engineering Entrepreneurship class helped me create a business plan, too, and by the time I left for graduate school at Northwestern, I had Penn money to apply for a patent and to further develop the SmartSock.
Chrysta went on to achieve master's degree in Engineering Design and Innovation from Northwestern University and Orthotics and Prosthetics from Georgia Tech. She went on to do a residency in Prosthetics at the Rehabilitation of Chicago and a residency in Orthotics from the University of California, San Francisco. She is currently the Clinical Manager of Orthopaedic Surgery in the School of Medicine at the University of California, San Francisco, CA.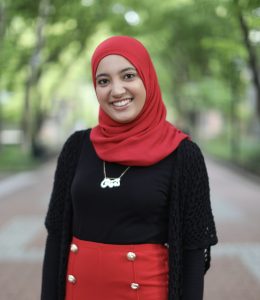 Lamis Elsawah (Class of 2019)
Design Engineer at Johnson & Johnson's DePuy Synthes
"Penn had been my dream school for years prior to even applying to college, so their having a top notch bioengineering program was icing on the cake when it was time for me to apply. Prior to applying, I actually had the opportunity to meet with Dr. Meaney (who was the Bioengineering Department Chair up until I graduated) the summer before my senior year in high school and he was always a constant support throughout my bioengineering education up until graduation. Since Bioengineering had less than 100 students per class, it really allowed us to develop that familial feel with our core Bioengineering professors and lab staff. I honestly don't think I would have survived junior and senior year without the help of Sevile and the entire lab staff, so I will be forever grateful.
I always like to say that junior year labs are really what made me an engineer. Those were some of the most challenging classes I took, but it was really rewarding once I reached the end. Between those lab courses and biomechatronics taught by Professor Dourte, it prepared me to become a design engineer and apply all that I had learned. I also had the opportunity to get my minor in Engineering Entrepreneurship and be taught by Professor Cassel, which increased my interest in the business side of developing medical devices. The combination of my studies ultimately led me to Imperial College, London where I received my Master's in Medical Device Design and Entrepreneurship.
The bioengineering curriculum at Penn allowed me to have a vast knowledge of the field that I will always be grateful for. It not only provided me with the mechanical experience, but also the electrical and biological background. I plan on staying an active alumna in both the Engineering Alumni Society and the Penn Alumni Board as a result of my wonderful experience at Penn Engineering and Penn as a whole."
Lamis graduated with a B.S.E. in Bioengineering with a concentration in Medical Devices in 2019.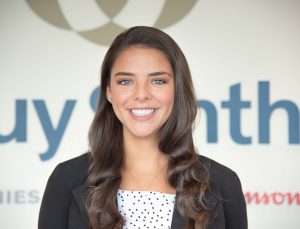 Danielle Rossi (Class of 2018)
R&D Leadership and Development Program Engineer at Johnson & Johnson Medical Devices
"When I first started at Penn, I was amazed by all of the opportunities to learn, to challenge myself,  to network, and to innovate.  My time at Penn was filled with interesting classes, dedicated faculty, challenging problems to solve, and collaboration. From writing a mock NIH research grant for a tissue engineered Intervertebral Disk in BE 553, to designing an electromechanical device controlled with muscle movement in BE570, to writing up a business plan and pitching to investors in EAS 546, every new day came with a new venture.
On top of the exciting classes and projects, Penn has numerous research labs and healthcare facilities so that students can apply their skills to real-world problems. While I was a student, I had the opportunity to work at the Abramson Cancer Center in the Cancer Risk Evaluation Program. The program focused on patient risk evaluations, including genetic testing for certain cancers such as breast, ovarian, and sarcoma. This exposed me to the healthcare environment and gave me a new perspective on preemptive medicine.
During my free time, I loved to tour the historically and culturally rich city of Philadelphia. I have the fondest memories of exploring the city with my BE friends and storming the Philly streets when the Eagles won the Super Bowl!
While at Penn, I was sure to utilize Career Services to help me spruce up my resume and interview skills.  I was lucky enough to meet with Johnson & Johnson Medical Devices at a Penn career fair and was offered a spot in the R&D Leadership and Development Program. The program allows me to rotate through three different J&J Medical Device companies as an R&D Engineer to gain exposure to new product development, mechanical design, computational modeling, manufacturing, design quality and more. "
Danielle graduated with her M.S.E in Bioengineering in December 2018.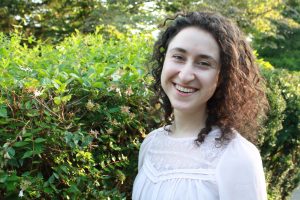 Jane Shmushkis (Class of 2017)
Automation Engineer, Mosa Meat
"While at Penn, I worked in the Stephenson Foundation Educational Laboratory and Bio-MakerSpace and in the Chow Lab as a student researcher. The educational lab was a free space to mess around with rapid prototyping tools, including 3D printing, laser cutting, Arduino, and much more. The experience in synthetic biology research encouraged me to think of biology with an engineering lens and to have the confidence to plan my own experiments. The people I got to work with at the BioMakerSpace and the Chow Lab kept me optimistic through challenging semesters and excited to learn.
With this excitement to keep learning, I decided to submatriculate into the Bioengineering Master's program. Because of the program's flexibility, I could choose from a mix of project-based courses, like Biomechatronics and Modeling Biological Systems, and literature-based courses, like Tissue Engineering and Musculoskeletal Bioengineering. Outside of Bioengineering, I took classes to sharpen skills in part fabrication (Machine Design and Manufacturing) and programming (Computer Vision & Computational Photography). This breadth helped me realize how much I could do with a foundation in coding and mechanical design and an understanding of the life sciences.
Beyond Penn Engineering, I was involved in Penn Dance Company, CityStep Penn, and the Science & Technology Wing. Penn Dance was a necessary break for my body and mind. CityStep was a way to connect with the larger Philadelphia community through performing arts. STWing showed me how playful engineering can be. After a couple years on campus, I also built up the confidence to bike off campus. If you have a good helmet and quick reflexes, I really recommend it to explore more of Philly!"
Jane graduated in Fall 2017 with both a B.S.E. in Bioengineering (with a Medical Devices Concentration) and M.S.E. in Bioengineering. Jane is an Automation Engineer at Mosa Meat (Maastricht, Netherlands) working on laboratory tools to scale up cultured beef production. Formerly, she was a Research & Development Engineer at Opentrons (Brooklyn, New York) working on affordable robots for life sciences research. She is an instructor with Genspace Community Biology Lab (Brooklyn, New York).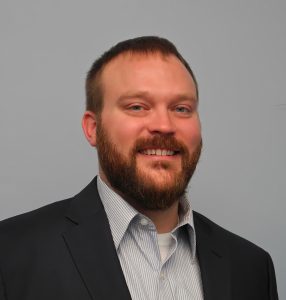 Christopher B. Rodell (Ph.D. 2016)
Assistant Professor, School of Biomedical Engineering, Science and Health Systems at Drexel University
"Yes, Penn is a great place to study – it's full of brilliant instructors and classmates. No big surprises there. But Penn Bioengineering is so much more than that! It's a community with passion, grit, and great times that reflect the city as a whole.
I grew up in the South, so I didn't really know much about the school or Philly in general when I first visited. But what stood out to me was the people. From the professors to the grad students and even the other visiting students, nearly everyone I met was genuinely excited to talk about their work and just wanted to have a good time doing it. Looking back, I realize that's exactly what I needed to thrive in a research-based education. Whether studying for a class or pulling long hours at lab, it takes some grit to make it through an engineering degree. But being passionate and having others to share your excitement with make it fun. Penn Bioengineering is a really unique place where I always felt welcome to talk with anyone – the sense of community and openness is probably one of the biggest reasons for their great success in education, research, and productive collaboration.
Through my time at Penn, I was fortunate enough to work with Jason Burdick who is, as everyone told me, 'one of smartest and nicest people you'll ever meet.' I also had the opportunity to build a network of lifelong friends and mentors that span the school of engineering, the medical school, and the broader academic community of Philadelphia. These connections have continued to provide me a sense of community as I embark on an independent research career at Drexel, and I'm excited to be back in Philly!"
Chris completed his Ph.D. in Bioengineering in the summer of 2016 and has since gone on to complete a postdoc at the Center for Systems Biology at Massachusetts General Hospital and Harvard Medical School. He is now an assistant professor at Drexel University. Learn more about the Rodell lab's research.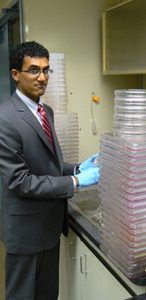 Ashwin Nathan, M.D. (Class of 2009)
Fellow, Cardiovascular Medicine, Perelman School of Medicine
"Growing up in the area, I knew alumni of the School who told me about the great experiences that they had had as undergraduates.  I'm glad to say that the time I spent at Penn lived up to my expectations!
"At a major research institution like Penn there are a ton of opportunities to find a lab that is a great match for you.  Research is a way to take what you learn in class and go above and beyond the textbook.  Not only is the lab a place to learn and discover, it is also a great place to make unique friendships with people who share an interest with you—people you might otherwise not meet.
"It is a place to talk passionately about the topics that are at the forefront of the scientific community.
"It is surprising to see how one research experience can tie together so many of the concepts that you learn in all of your previous courses.  I still keep many of my old textbooks because the work I am doing is so comprehensive and exciting.  You learn something new each day!"
Ashwin has since graduated from Harvard Medical School. He is currently back at Penn as a Fellow in Cardiovascular Medicine at Hospital of the University of Pennsylvania.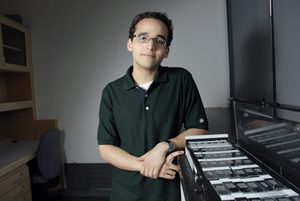 Joan José Martínez, Ph.D. (Class of 2009)
Technology Licensing Officer, Columbia Technology Ventures
"I knew Penn had a solid program in bioengineering, but it was Penn's broad, relevant research opportunities that helped me decide to come here from my home in Santo Domingo, Dominican Republic.  I felt that whatever my research interests eventually became, I could explore them to the fullest in one of Penn's vast research labs and institutes.
"My research experience at Penn was enlightening!  It really taught me how science is done but more if a research career is for me.  I started research the summer after my sophomore year, having never worked in a research lab.  The researchers reminded me that my work was always part of a greater group effort.
"The lab groups engender a feeling of camaraderie in BE.  It is one way everyone in this competitive major really gets to know one another.  Some of my lab mates have since become my closest friends.
"While at Penn, I participated in the Global Biomedical Service Program (GBS), a program Penn has in conjunction with Hong Kong Polytechnic University.  We learn a lot of theory in the classroom, but it is programs like GBS that really force you to see how what we're learning is important."
Joey completed his PhD in Bioengineering at the University of Utah and was a Postdoctoral Research Fellow at Boston University. He is currently a Senior Technology Licensing Officer with Columbia Technology Ventures at Columbia University in New York City.

Penelope Georges (Ph.D. 2006)
Associate Director of STEM Initiatives, Princeton University
"My time at Penn spoiled me for many job experiences that followed.  The Institute for Medicine and Engineering (IME) was collaborative, familial, and stimulating. During my Ph.D. work, I felt simultaneously nurtured and challenged.  Most credit for this prolific phase of my career is due to the members of Dr. Paul Janmey's laboratory during my tenure at Penn – starting with the big man himself.  My research mentor promoted a research experience that centered on respect for others, not only within our field of study but also outside the academy.  Respect meant the expectation of forming strong relationships and collaborations and having reverence for scientific experts and practitioners alike. The foundation of the lab's ethos was collaboration for the greater good.
Dr. Janmey set the tone for lab members to hold each other in high regard and to be team players. I would not have been as successful without this support.  Beyond the lab, the IME at the time had a remarkable staff assistant in Marvin Jackson who was central to promoting camaraderie across the Institute. Marvin was a critical presence in the IME and I believe that many scientific collaborations were made possible due to the environment he cajoled.
Outside the IME, some the most meaningful moments of my Ph.D. studies came from traveling outside the US to collaborate internationally. I was fortunate to travel as close as Mechanicsville, PA and as far as the Czech Republic to attend meetings, perform experiments, and make connections with colleagues. Through travel and meeting many different types of people, I learned the culture of being in academia and developed a broader view of scientific research.
As of recently, my career has focused on pedagogy in higher education. At Princeton, I serve within an entity that has a central mission of improving science and engineering literacy for all its constituents: the Council on Science and Technology. I develop new science and engineering courses and introduce interactive research-based teaching methods into these courses. I am involved in policy issues on STEM education at Princeton and beyond. The skills I learned at Penn that are critical to my current position are to recognize problems and design innovative solutions and the ability to communicate and collaborate with researchers across many disciplines. I am very grateful to be an alumna of a remarkable program."
Penelope earned her Ph.D. in Bioengineering in 2006. Learn more about her research.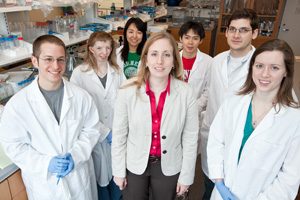 Cynthia A. Reinhart-King (Ph.D. 2006)
Cornelius Vanderbilt Professor of Engineering, Professor of Biomedical Engineering, & Director of Graduate Studies in Biomedical Engineering, Vanderbilt University
It wasn't very long ago that Cynthia Reinhart-King was a graduate student in Professor Daniel Hammer's laboratory at Penn.  Reinhart, who is a professor of biomedical engineering at Vanderbilt University and one of three project leaders at the new nationally funded Center on the Microenvironment and Metastasis, looks at cell behavior from a mechanical/physical and chemical perspective.  Interested in understanding how cells behave in atherosclerosis and cancer—the two leading causes of death in the United States—she studies how cells sense changes in their environment.  What effect does the environment surrounding a cell have on its behavior and the progression of disease? How do cells migrate, exert forces, and adhere during tumor growth and the formation of new blood vessels?
Penn is an inspiring place to pursue graduate work, says Reinhart-King, because of its "wonderfully collaborative environment and proximity to the medical school."  She also credits Daniel Hammer, the Alfred G. and Meta A. Ennis Professor of Bioengineering, with being "an amazing person to work with.  He gives students a unique perspective on how to apply physical science approaches to biology and then the freedom to pursue projects interesting to them," she says, "He strikes the perfect balance as an advisor."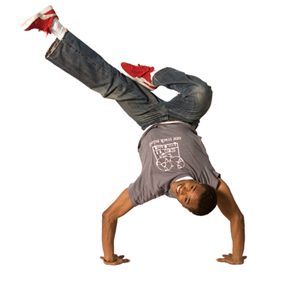 Osama Ahmed (Class of 2009)
President Postdoctoral Research Fellow, Princeton University
"One reason I came to Penn is that I joined Penn's break dancing club (Freaks of the Beat) while still in high school.  From an academic point of view, I knew I wanted to do medically related research and that Penn is virtually surrounded with institutions that do exactly that.
"Later, I realized that I not only want to be a researcher but also an inventor.  The resources around me—in the engineering school and in Weiss Tech House—and the willingness of professors to help excited me."
Sama got his Ph.D. in Neuroscience at the University of California, San Francisco. He went on to join the lab of Nirao Shah at Stanford University to study the genetic and neural basis of sexually dimorphic behavior. In 2019 he was named one of the 12 inaugural Presidential Postdoctoral Research Fellows at Princeton University in New Jersey.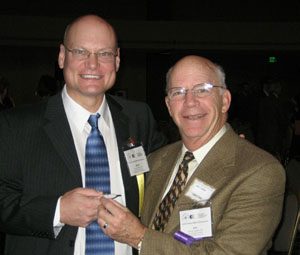 Dr. William Neusidl (Class of 1980)
Ophthalmologist
Neusidl (left) is a practicing ophthalmologist who applied his medical and bioengineering training to improve a surgical procedure for corneal transplantation. This procedure termed DSEK  or "Descemet's Stripping Endothelial Keratoplasty," facilitates the traditional corneal transplantation surgery by only transplanting the critical endothelial cells that are vital to keeping the normal cornea transparent. The surgical time is markedly reduced and the chances of rejection are much less when compared to the full thickness transplantation.
One of the biggest hurdles in performing a successful DSEK procedure is delivering the layer of endothelial cells into the eye without damaging them. Since the endothelial cells do not replicate, once they are injured they die off decreasing the overall success of the procedure.
Neusidl designed a delivery device that reduces endothelial cell loss from the previous 25-30 percent to about 15 percent. This reduction in cell loss ultimately increases the survival rate of the donor tissue and allows for a faster recovery in vision for the patient.  The device—the NCI (Neusidl Corneal Inserter)–is being used all across the United States, as well as in Europe and Japan. Read more about the device in the Review of Ophthalmology (48 Sept. 2010).
Careers: Where do our students go after Penn?
Students graduating from the Penn Bioengineering program are highly sought after by industry, government, graduate and medical schools. Our graduates have taken positions as engineers, researchers, and analysts both here in the United States and abroad.
Among the employers and recently accepted positions were The National Institutes of Health, research assistant; Accenture, analyst; Schlumberger, field engineer; W.L. Gore, production/quality engineer; Credit Suisse, analyst (in Singapore); and Weill Cornell Medical College, technician. Students were offered places in top-ranked schools of medicine, pharmacy, and business and in graduate programs in bioengineering, financial mathematics, neuroscience, biotechnology, health sciences and technology, and biostatistics.