Bioengineering Alumni
A Worldwide Alumni Network
As one of the oldest and most established bioengineering programs in the country, Penn numbers close to 1,500 alumni currently residing in the United States and more than 100 living all over the world.  Alumni can be found in a diverse range of fields from academia, research labs, and pharmaceutical companies to law, venture capital and consulting firms. They continue to shape the field of bioengineering through their innovation, research, medicine, and teaching.
Even before a student graduates from Penn, he or she can connect with this diverse group.  Alumni return to Penn to talk informally about careers, support scientific advances and education through donor gifts, and connect with both undergraduate and graduate students.
Alumni Spotlights:
Chrysta Irolla (Class of 2008)
Clinical Manager, Orthopaedic Surgery, UCSF
I was born and raised in Brooklyn, New York, and first came to Penn during the Penn Relays (a national track event) that draws high school students from all over the country and from foreign countries, too.  I loved that Penn was not just in a city but was trying to be a part of Philadelphia by having students volunteer their time, particularly through an academic-based community service class called "Bioengineering in the world."  I also became a SPARK counselor, helping young kids interested in engineering to do science experiments in BE labs during the summer and on weekends.
I went to China with Penn's Global Biomedical Service Program and came back with new goals and ideas.  Not only did I discover a passion for prosthetics and orthotics, but I researched and invented a device for below-the-knee amputees, for which I won a PennVention prize and financial support.  My Engineering Entrepreneurship class helped me create a business plan, too, and by the time I left for graduate school at Northwestern, I had Penn money to apply for a patent and to further develop the SmartSock.
Chrysta went on to achieve master's degree in Engineering Design and Innovation from Northwestern University and Orthotics and Prosthetics from Georgia Tech. She went on to do a residency in Prosthetics at the Rehabilitation of Chicago and a residency in Orthotics from the University of California, San Francisco. She is currently the Clinical Manager of Orthopaedic Surgery in the School of Medicine at the University of California, San Francisco, CA.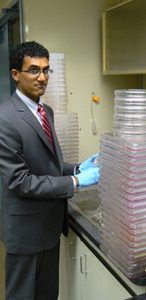 Ashwin Nathan, M.D. (Class of 2009)
Fellow, Cardiovascular Medicine, Perelman School of Medicine
"Growing up in the area, I knew alumni of the School who told me about the great experiences that they had had as undergraduates.  I'm glad to say that the time I spent at Penn lived up to my expectations!
"At a major research institution like Penn there are a ton of opportunities to find a lab that is a great match for you.  Research is a way to take what you learn in class and go above and beyond the textbook.  Not only is the lab a place to learn and discover, it is also a great place to make unique friendships with people who share an interest with you—people you might otherwise not meet.
"It is a place to talk passionately about the topics that are at the forefront of the scientific community.
"It is surprising to see how one research experience can tie together so many of the concepts that you learn in all of your previous courses.  I still keep many of my old textbooks because the work I am doing is so comprehensive and exciting.  You learn something new each day!"
Ashwin has since graduated from Harvard Medical School. He is currently back at Penn as a Fellow in Cardiovascular Medicine at Hospital of the University of Pennsylvania.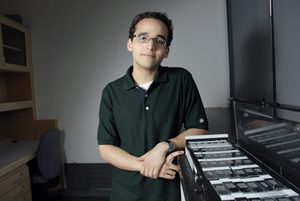 Joan José Martínez, Ph.D. (Class of 2009)
Technology Licensing Officer, Columbia Technology Ventures
"I knew Penn had a solid program in bioengineering, but it was Penn's broad, relevant research opportunities that helped me decide to come here from my home in Santo Domingo, Dominican Republic.  I felt that whatever my research interests eventually became, I could explore them to the fullest in one of Penn's vast research labs and institutes.
"My research experience at Penn was enlightening!  It really taught me how science is done but more if a research career is for me.  I started research the summer after my sophomore year, having never worked in a research lab.  The researchers reminded me that my work was always part of a greater group effort.
"The lab groups engender a feeling of camaraderie in BE.  It is one way everyone in this competitive major really gets to know one another.  Some of my lab mates have since become my closest friends.
"While at Penn, I participated in the Global Biomedical Service Program (GBS), a program Penn has in conjunction with Hong Kong Polytechnic University.  We learn a lot of theory in the classroom, but it is programs like GBS that really force you to see how what we're learning is important."
Joey completed his PhD in Bioengineering at the University of Utah and was a Postdoctoral Research Fellow at Boston University. He is currently a Senior Technology Licensing Officer with Columbia Technology Ventures at Columbia University in New York City.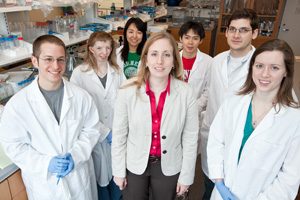 Cynthia A. Reinhart-King (Ph.D. 2006)
Cornelius Vanderbilt Professor of Engineering, Professor of Biomedical Engineering, & Director of Graduate Studies in Biomedical Engineering, Vanderbilt University
It wasn't very long ago that Cynthia Reinhart-King was a graduate student in Professor Daniel Hammer's laboratory at Penn.  Reinhart, who is a professor of biomedical engineering at Vanderbilt University and one of three project leaders at the new nationally funded Center on the Microenvironment and Metastasis, looks at cell behavior from a mechanical/physical and chemical perspective.  Interested in understanding how cells behave in atherosclerosis and cancer—the two leading causes of death in the United States—she studies how cells sense changes in their environment.  What effect does the environment surrounding a cell have on its behavior and the progression of disease? How do cells migrate, exert forces, and adhere during tumor growth and the formation of new blood vessels?
Penn is an inspiring place to pursue graduate work, says Reinhart-King, because of its "wonderfully collaborative environment and proximity to the medical school."  She also credits Daniel Hammer, the Alfred G. and Meta A. Ennis Professor of Bioengineering, with being "an amazing person to work with.  He gives students a unique perspective on how to apply physical science approaches to biology and then the freedom to pursue projects interesting to them," she says, "He strikes the perfect balance as an advisor."
To learn more about Reinhart-King's research, go to http://www.cellmechanics.org/research/index.php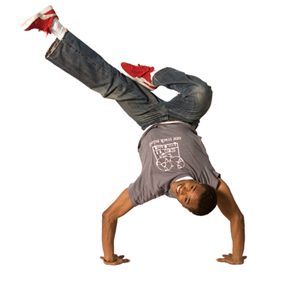 Osama Ahmed (Class of 2009)
President Postdoctoral Research Fellow, Princeton University
"One reason I came to Penn is that I joined Penn's break dancing club (Freaks of the Beat) while still in high school.  From an academic point of view, I knew I wanted to do medically related research and that Penn is virtually surrounded with institutions that do exactly that.
"Later, I realized that I not only want to be a researcher but also an inventor.  The resources around me—in the engineering school and in Weiss Tech House—and the willingness of professors to help excited me."
Sama got his Ph.D. in Neuroscience at the University of California, San Francisco. He went on to join the lab of Nirao Shah at Stanford University to study the genetic and neural basis of sexually dimorphic behavior. In 2019 he was named one of the 12 inaugural Presidential Postdoctoral Research Fellows at Princeton University in New Jersey.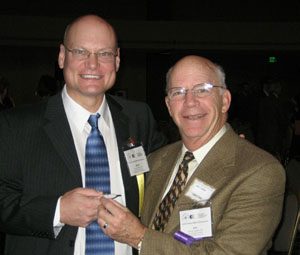 Dr. William Neusidl (Class of 1980)
Ophthalmologist
Neusidl (left) is a practicing ophthalmologist who applied his medical and bioengineering training to improve a surgical procedure for corneal transplantation. This procedure termed DSEK  or "Descemet's Stripping Endothelial Keratoplasty," facilitates the traditional corneal transplantation surgery by only transplanting the critical endothelial cells that are vital to keeping the normal cornea transparent. The surgical time is markedly reduced and the chances of rejection are much less when compared to the full thickness transplantation.
One of the biggest hurdles in performing a successful DSEK procedure is delivering the layer of endothelial cells into the eye without damaging them. Since the endothelial cells do not replicate, once they are injured they die off decreasing the overall success of the procedure.
Neusidl designed a delivery device that reduces endothelial cell loss from the previous 25-30 percent to about 15 percent. This reduction in cell loss ultimately increases the survival rate of the donor tissue and allows for a faster recovery in vision for the patient.  The device—the NCI (Neusidl Corneal Inserter)–is being used all across the United States, as well as in Europe and Japan. Read more about the device in the Review of Ophthalmology (48 Sept. 2010).
Careers: Where do our students go after Penn?
Students graduating from the Penn Bioengineering program are highly sought after by industry, government, graduate and medical schools. Our graduates have taken positions as engineers, researchers, and analysts both here in the United States and abroad.
Among the employers and recently accepted positions were The National Institutes of Health, research assistant; Accenture, analyst; Schlumberger, field engineer; W.L. Gore, production/quality engineer; Credit Suisse, analyst (in Singapore); and Weill Cornell Medical College, technician. Students were offered places in top-ranked schools of medicine, pharmacy, and business and in graduate programs in bioengineering, financial mathematics, neuroscience, biotechnology, health sciences and technology, and biostatistics.