Bioengineering
A Department of the School of Engineering and Applied Science
BE Undergraduates
Undergraduate Bioengineering students at Penn form a dynamic, diverse group involved in just about every activity on campus.  They have come from nearly all 50 states and more than 20 different countries, including Uganda, the Dominican Republic, India, China, Canada, and Colombia. Women make up 50% of the BE student body, a number that has kept climbing over the years.
About 20 percent of our undergraduates publish research in professional journals, and all students are involved in research projects/senior design. Many also conduct additional independent research guided by faculty mentors.  Students have the opportunity to work in faculty laboratories in the department and in the medical school, with clinicians, medical researchers, and scientists throughout the university and across many disciplines.
Student Spotlight: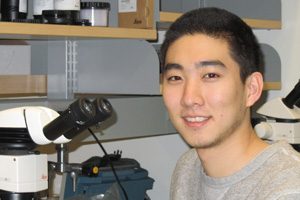 Eric Kim
BSE, Class of 2013
In a summer research project, Eric Kim studies genetically altered worms in the laboratory of Chris Fang-Yen, assistant professor of Bioengineering, to probe the mysteries of neural behavior.  The worms (C. elegans) express a protein that responds to green light.  When Kim illuminates the green light on a moving worm, its motor neurons are inhibited, paralyzing the worm for as long as the green light shines on it.  If Kim turns off the green light, the worm "wakes up," says Kim, and begins to move.
To optimize one particular experiment, Kim needs three hands: one to work the computer interface, one to keep track of the worm, and one to shine the laser on the worm at .2 –second intervals from .2 seconds to 2 seconds.  After some tinkering, Kim and Fang-Yen devise a "third hand": a foot pedal (it's actually a piano pedal) to control precisely the intervals of light exposure.
The goal of this experiment is to determine how the worm generates its rhythmic motion. No one knows, but Chris Fang-Yen, Kim's mentor, thinks that C. elegans may have some kind of "internal clock" that helps it coordinate all its movements. The experiment's results, however, ultimately showed that the worm resumed movement at a random point in its phase, giving no evidence yet of an internal-pattern generator. In future optogenetic experiments, Kim will continue to study how the worm generates its rhythmic pattern by using unique tools that Fang-Yen has invented.
Student Spotlight: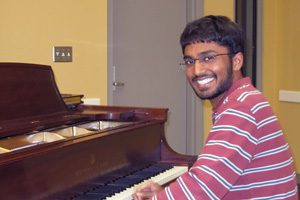 Kasun Waidyaratne
Class of 2014
Kasun Waidyaratne spent his freshman year exploring Old City, First Friday gallery openings, the Free Library and bookstore, and surrounding himself with music, both inside and outside the classroom.   A classical pianist who began studying at age eight, Waidyaratne now lives in Rodin, in a musical residence program with a floor set aside for students interested in music.
His classes have also reflected his love of music: "A Thousand Years of Listening," which covered the Gregorian chant through John Cage; a music theory course, where he composed a piece for piano and clarinet; and a writing seminar on the "History of Recording Technology"—in which he studied how technology influences music from the invention of the phonograph through auto tune.
In addition, Waidyaratne found time to play with the chess team of about ten people who won the Ivy League championship, play intramural soccer, and spend 10 weeks performing research through a PURM-CURF mentorship fellowship in the laboratory of Chris Fang-Yen, assistant professor of Bioengineering.  He returned to Fang-Yen's lab after his summer internship to continue researching and modeling how the worm C. Elegans moves in different environments and to help understand what muscle activities produce different movements.
Student Spotlight: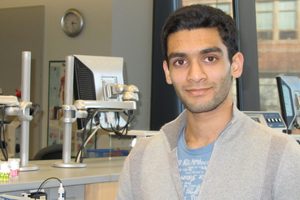 Zameer Merchant
BSE, Class of 2012
Zameer recently published a paper entitled "Microfluidic Bandage for Localized Oxygen-Enhanced Wound Healing" in the Journal of Undergraduate Research.  The research is based on his work over the summer in a 10-week Research Experience for Undergraduates (REU) at the University of Illinois at Chicago, where he got to know bioengineers, chemical engineers, physicists–all fellow REU students.
After his summer research experience, Zameer returned to Penn and plunged into more research, this time under Dr. George Cotsarelis in the department of dermatology at the Penn School of Medicine.  From wound-healing to hair follicle morphogenesis, Zameer's applied research interests complement his long-term plans of going into medicine.  But first he wants to work in industry.
"A phrase you hear often about BE," writes Zameer, "is that we're a jack of all trades. Only in BE will you take classes in biology, chemistry, physics, mechanical engineering, electrical engineering, chemical engineering, computer science, and materials science."  Currently president of eMED: Engineers in Medicine, Zameer spent time organizing Penn's first Healthcare Conference, a collaboration of six different clubs from all four undergraduate schools, which drew some 200 students.  In his spare time, Zameer plays the cello.