Bioengineering
A Department of the School of Engineering and Applied Science
Bioengineering Master's Students
Students in Penn's master's program in Bioengineering come for its rigor, flexibility, depth and breadth in biological and medical sciences. Students not only select their own graduate coursework in math, biomedical sciences, bioengineering and other science and engineering disciplines, but they may take courses in any school at Penn, including the veterinary school, the School of Arts and Sciences, the School of Engineering and Applied Science, and the School of Medicine.
Our MSE Graduates are prepared to enter industry, research and development, government, academia and/or medicine. Recent alumni have taken positions at Bloomberg LP, New York, NY; Boston Scientific, Spencer, IN; Cordis, Johnson & Johnson Corp., Menlo Park, CA; GE Healthcare, Dubai, United Arab Emirates; and Stanford University, Palo Alto, CA, just to name a few. Others have entered doctoral programs and medical school.
Student Spotlight: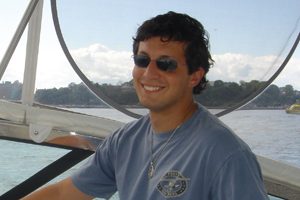 Eric Rosenberg
MSE '2009
"Before matriculating into medical school, I knew that I wanted to strengthen my depth of knowledge in the disciplinary field of bioengineering. After studying biomedical engineering for four years as an undergraduate, I felt as though I had only begun to scratch the surface. During my senior year of college, I was accepted into many master's programs all over the United States. Making the right decision was extraordinarily challenging, and I only had one chance to get it right before medical school.
"I packed up my things and headed to Philly. Once I set foot on campus, I felt as if I were home. I found a strong graduate community with a passion for higher-level learning. While walking to class, you know you are walking with only a handful of others who are pioneering, working in, and sculpting the field of bioengineering alongside faculty. Similarly, all the schools seem to work diligently hand-in-hand, to create, build, and test the newest discoveries which may have just made it onto the nightly news. Unquestionably, Penn was the perfect place for me to continue my education, meet new friends, and build a strong foundation for my future." Eric, pictured above, is now attending medical school at the New York College of Osteopathic Medicine.